Inmo Home Spain continues to position itself as the leading Real Estate Agency in Murcia and Alicante
Inmo Home Spain in Costa Blanca and Costa Calida: Your trusted Real Estate Agency Registered Api A190
We continue to lead the real estate market as a real estate agency in areas such as Alcantarilla, Molina de Segura, Montepinar, Altorreal and La Alcayna, Sangonera la Verde and Torreguil, El Palmar, Murcia center and districts, Orihuela Costa, Torrevieja, Guardamar, Campoamor, Torre de la Horadada, …, without forgetting the successes achieved both on the coast and inland with our department focused on the international market.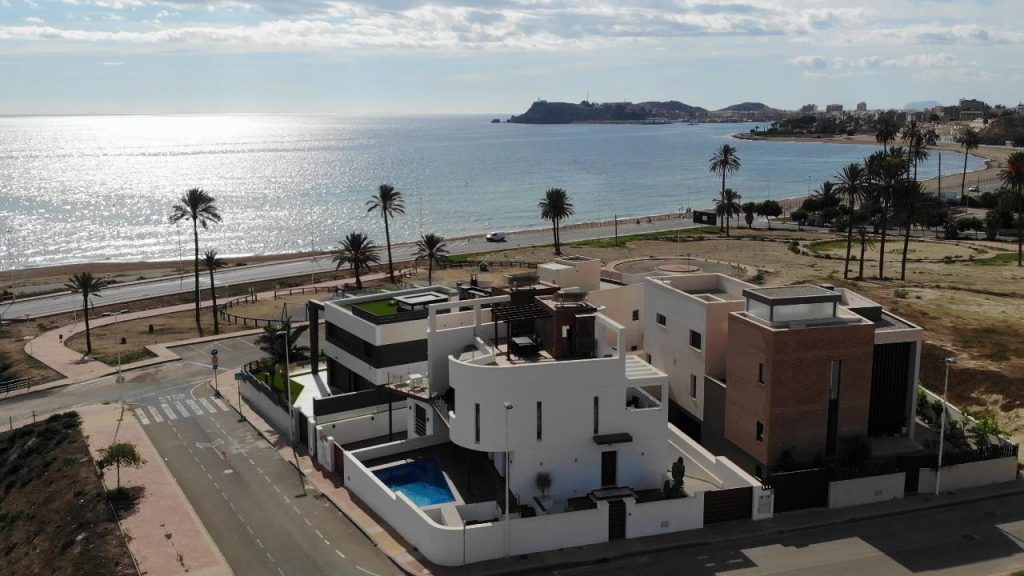 e begin this last stretch of the year 2023 with renewed desire and strength, after a summer full of successes.
Both the commercial department of our real estate agency focused on the national client, and the one specialized in the international market, have managed to maintain and improve the expectations that Inmo Home Spain had as a real estate agency for this summer, making it possible for our family of national and international clients to receive the service for which they hire us, some buy and others sell, in a satisfactory way for all.
Focused on professional advice and honest and direct information and assessment to our clients, we manage to achieve that our objectives and those of our clients go in unison.
From Inmo Home Spain, Real Estate Agents and with a customer service office in Murcia, we invite you to meet us and that together we can continue to make this family a bigger family and be able to achieve the goals that we set as a team.
Realty Home Spain
Office: Avda. Reyes Católicos, 39
30820 – Culvert. Murcia
868 973 365
Read our guide line and contact us:

Are you looking to sell your property in Costa Calida, Murcia, Costa Blanca South or Almería?
If you have decided to put your property on the market we are very interested.
Inmo Home Spain is in the need of offering its customers a newly renovated Resale Portfolio.
Having sold during last year 2021 more than 60% of our Property portfolio, we are on an active search for more properties as a lot of our customers are awaiting to hear from us.
We count with an active porfolio of more than 3.000 customers who have joined our Property Update Magazine and nearly our agent net system using our properties to assist their customers.
What can Inmo Home Spain offer you:
First of all and very important, a Free Valuation which will be carried with honesty taking into consideration the actual market, the coming seasons, competitors and financial possibilities to offer to a potential buyer.
Our continuous support, with regular information about visits, enquiries, feed back from customers, …
Free legal advise. We will give you a free guide with regards to taxes and other costs involved with the selling of your home.
Multilingual team: One of you consultants will help you on your mother tongue, English, Dutch, German, Spanish, French, …
Non exclusivity, very important, "NON EXCLUSIVITY". We don´t believe in exclusivities.
We believe in our team and our collaborators and we market your property to sell, not just to increase the portfolio.
Area expertise and Office location.
We are experts on specific areas and they are all under an easy and quick reach from our coastal and inland offices, strategicaly located between the Costa Calida (Murcia) and the Costa Blanca South (Southern Part of Alicante Region).
Land Line: 0034 968 80 84 25.
"Peace of Mind", as we understand that you might not be here, we have the compromise and responsabillity of showing your property with care.
Areas of Interest and expertise: the following areas are within our active search due to our customers demand:
We need properties (Apartments, Townhouses and Villas) in or around the following locations:
Santiago de la Ribera
Lo Pagán
San Javier
El Mojón
Los Narejos
Los Alcázares
San Cayetano
Balsicas
Sucina
Roldán
Higuericas
Mil Palmeras
Torre de la Horadada
Pilar de la Horadada
San Pedro del Pinatar
Following Golf Courses: Hacienda Riquelme, El Valle, La Torre Golf Resort.
Playa Flamenca
Cabo Roig
San Miguel de Salinas
La Zenia
Villamartin
Campoamor
La Marina
Guardamar
Torrevieja
Punta Prima
Villaricos
Mojacar
Garrucha
Palomares
San Juan de los Terreros
Please, contact us for a free valuation and you will be visited by a Qualified Consultant. +34 968 80 84 25.
Inmo Home Spain Team and our Customers are awaiting for you
SELL YOUR PROPERTY
To enquire about a Free valuation of your property with one of our listing experts, simply fill in the form provided below.
——–
Request a Free Valuation of your property in Spain
Click the on the link below and contact us:
https://www.inmohomespain.com/sell-my-property-in-spain
Sales Department
0034 868 973 365
Inmo Home Spain